Title: Green people management: HR issues from beginning to end – the whole work cycle
First author: Professor Anna-Marie (A.M.F.) Pelser
ID orcid.org/0000-0001-8401-3893
Research Professor, North-West University, Faculty of Economic and Management Sciences- Entity Director – GIFT, Mafikeng Campus.
Corresponding author: Professor A.M.F. Pelser: HED (Home Economics, PU for CHE), B Com (UNISA), B Com Hons (PU for CHE), M Com (Industrial Psychology, NWU), PhD (Education Management, NWU)
email: anna.pelser@nwu.ac.za or ampelser@hotmail.com
Second author: Doctor Kezell Klinck
iD orcid.org/0000-0001-8082-8200
Lecturer, North-West University, Faculty of Economic and Management Sciences, Mafikeng campus.
BA Comm, B Admin Hons (Industrial Relations), Masters (Human Resources Management), PhD (Business Management).
email: 16134729@nwu.ac.za
Ensovoort, volume 43 (2022), number 8: 1
ABSTRACT
For the transformation of a harsh unapproachable work environment into a soft, tolerant green environment, special characteristics are needed, both from the company and the workforce. The business must discover the answer on the "it" question. What is "it": that this company has that compels employees to work for this company? What makes the company better to work for than another company? What should a company do to make a significant impact on the manner employees view this company? Are changes to convert ordinary employee management into green people management sustainable? It should be clear that the company is a proponent of green people management. With green people management, the company also adheres to social justice. Green work ethics and ethics of care should be at the order of the day. The company's top structure must be at the forefront of research on the green concept regarding all aspects of the company. The layout of the company infrastructure must be indicative of what the company stands for. In carrying out its duties, the company must be at the forefront of practices that embraces healthy green people management and environmental practices and benchmark their company as such. The web page on which information about the organization appears must clearly spell out the green policy towards the environment and staff.
Keywords: employee morale, ethics of care, green human resource management, healthy environment, impact of sound, impact of water, playground for children
Introduction and problem statement
As with any good narrative, green people management should start from the origin of people employment. With the turn of the century organisations are now facing an increase in industrialization, and buzz words for this change are "the fourth industrial revolution". The fourth Industrial revolution causes a turnaround and acceleration in the existence and production of goods and services of companies. A total venture into the unknown where companies do away with old, hard-working ways of working and refreshing new suggestions come to light. Total upliftment of the human race to the detriment of the environment, work relationships and family life. The throw-away syndrome is more evident than ever: selling your life to the organization, and if the employee cannot take it anymore, he or she gets replaced by someone more competent. Human resources are the most important asset of the organization, and therefore, human resources must be handled with sensitivity. The way human resources are handled cascades to other subdivisions such as the environment and the private as well as the individual's family life. Organizations must raise awareness as to the fact that they entertain a view of green people management.
Green people management implies that there is synergy in that the sum total of all parts of an organization collaborates for the creation of a successful, viable, healthy organisation.
Batho Pele principles used in South Africa in trade and working with the public are applicable in organizations and can be adapted to use the core but change the content to fit in with green people management. These Batho Pele principles are:
Promoting and maintaining high standards of professional ethics;

Providing service impartially, fairly, equitably and without bias;

Utilising resources efficiently and effectively;

Responding to people's needs; the citizens are encouraged to participate in policy-making;

Rendering an accountable, transparent and development-orientated public administration.
This chapter intends to discuss green people management through the various stages of employment and will elaborate on how to manage each stage. Examples will illustrate the work and photos where possible will support suggestions made. Green people management will be discussed on all levels, from the establishment of a job description of the position to be advertised up to the retiring/resigning of the employee in an organization. Green people management starts from recruitment and ends when the employee leaves the company. The popularity of the company must be high on the agenda of the founders of the company, so much so that the company receives an awesome total of job-seekers' applications. Aspects such as rewards, motivation promotion and hearings will form part of this discussion.
In the advertisement, the company must already announce that it aims to reduce its carbon footprint and achieve harmony with the environment and nature. Prospective employees must have the organization's interests at heart and benchmark the organization as a green people-management company. Prerequisites for advertising of posts will be discussed online to reduce the carbon footprint and so apply to posts.
Interviews should also be conducted online, and new methods for conducting interviews should be developed instead of the old worn-down methods. All new green interview methods will form part of this chapter, followed by an extensive discussion on each.
Introduction of new staff members into best-practice methods are aimed at the modelling of the attitude, behaviour and skills of the new employee and determining whether the person can master the new skills that are expected to contribute to the green organization. Corrective measures must also be taken when the green rules of the organization are violated. This chapter will be incomplete if the green way of motivation, and ethics of care for workers are aspects not to be included. Kindness, a gentle touch, assistance with problem solving and mutual respect between employer and employee should be workable methods used to encourage green people management. Developing good interpersonal relationships, regular online communication and methods of appreciation for achievements should be the backbone of green people management and deserves detailed attention in this chapter. Discussions will also touch on a well-developed floor plan, ergonomic design in furniture and working equipment in top condition with the effect of reducing health problems and adding to a green environment. Green ideas with the emphasis on reduction in pollution, which in turn add to a green environment will form an integral part of this paper.
Several ways to accommodate the four elements of nature as part of the infrastructure and offices, as well as recycling of several commodities in the green managing of people will contribute to the reduction of the organization's carbon footprint, a satisfied and healthy workforce and a prosperous organization. The use of water and sound as well to assist with green people management will form part of the discussion of this article. Work wellness and employee health are aspects that will be briefly discussed. Examples, illustrations and photos to explain information contained in the written section form part of this paper.
The question that this paper aims to answer is the following: How does the organisation's management manage its workers in a green manner?
Methodology
This is a conceptual article and the study is also focused solely on secondary data. This current literature related to the subject was gathered from various databases, websites and other available sources. A systematic analysis of collected literature was carried out, in depth. A number of examples from the internet was used to serve as explanation regarding the concepts used and suggestions made.
Conceptual framework
The schematic representations in Figure 1 create the layout for discussions in this chapter. The layout of the article is divided into ten different sections.
1. Creating a healthy working environment
LaMarco (2019) noted, that in order to understand the benefits of a business going green we must first understand what that term means. When a company makes a concerted effort to reduce its negative environmental impact, that is tantamount to "going green". It can manifest as taking measures to reduce utility costs, to start recycling and reuse procedural programs, to buy green products and services for the company. Burton (2019) stated that, at first, the concept of implementing green initiatives into the workplace may feel a little challenging, and while it can feel overwhelming as your company tries to find out where to start, there are actually numerous ways in which you can be environmentally friendly in the office without bringing the entire ecosystem inside, without tremendous cost implications and with long-term benefits for the organization and workers, including both the physical, emotional and psychological well-being of workers and the way the organization is viewed as to its behavior in relation to the environment.
In reducing the business effects on the environment, making a few easy improvements for a healthier, green workplace can be very successful. The following are suggested by the author as it might be useful in making the working environment green and positively motivating staff in the process:-
Make recycling part of your lifestyle

Just boil as little hot water as possible

When not in use, turn off the lights or power

Introduce green challenges for employees

Choose tins instead of glass

Swop to plastic-free milk, rather use tetra pack milk

Think before printing

Compost all possible waste

Fill the space between garden plants with vegetables like cabbage

New invention – water bottles made of sugar (Galán Herranz, 2017).
These tips are great ideas to start off with, especially for an organisation that is new to the going-green sphere as it is where the majority of businesses are still moving slowly towards it in order to reap its many benefits.
2. Who is the green employee?
According to Arulrajah, Opatha, & Nawaratne (2015), the authors find that nowadays it seems that a considerable number of organisations practise green human-resource management in the global context. Therefore Mamun (2019) identifies a green employee as that particular employee who is a nature lover, an eco-activist, non-polluter, preservationist and conservationist of resources of the organization. To identify the green employee in an organization, the following questions should be asked:
2.1 Does he switch off his computer when he finishes work?
2.2 Does he use a mug rather than disposable cups?
2.3 Does he print out his emails on both sides of the paper?
2.4 Does he use public transport or walk/cycle to work?
2.5 Does he recycle any garbage/rubbish he creates at work?
2.6 If he is the last to leave, does he make sure all unnecessary lights and equipment are switched off?
The above are examples of positive employees who prefer to live and dedicate their lives towards a green, safer working environment.
3. Green Human Resource Management (GHRM) or Green People Management (GPM)
The definition, as well as advantages of Green Human Resources Management (hereafter referred to as GHRM) are described by Fournier & Sanchis (2018) as the people working in HR departments, responsible for managing the workforce of companies, assuming an important role in the development of sustainability strategies to protect planet Earth. On the other hand, the word 'Green HR' is also used to refer to the commitment of HR policies and activities to the preservation and conservation of natural resources within the wider corporate environmental agenda. Environmentally sustainable HR activities and the protection of information resources are two essential elements to be taken into consideration when talking about Green HR (Jolly, 2015). According to Andriotis (2017), change is a shapeshifter, influencing our environment, competitors, customers, and workplace. Change, whether managerial, structural, procedural or technological, are normally something that humans are afraid of. The unknown brings about feelings of uncertainty and anxiety. According to Dessler, (2020:39), most writers agree that the managing of employees involves performing five basic functions:
Planning – establishing goals and standards, developing rules and procedures, developing plans and forecasts.

Organizing – giving each subordinate a specific task, establishing departments, delegating authority and subordinates, establishment of authority and contact networks, coordination of subordinates' work.

Staffing – determining what type of people should be hired, recruiting prospective employees, selecting employees, setting performance standards, compensating employees, evaluating performance, counselling employees, training and developing employees.

Leading – getting others to get the job done, maintaining morale, motivating subordinates.

Controlling – setting standards such as sales quotas and quality standards, as well as testing output levels to determine how real performance correlates with these norms, taking corrective measures as appropriate.
Theoretical framework: Ethics of care
Ethics of care defined
From an early age, women were regarded as the caregivers in society. It is also the basis from which the principle of Ethics of care, also known as Care Ethics, originated.
The feminists were that section society that always reached out to the less privileged. Care and empathy were freely distributed to those who needed it. A connection can also be drawn between feminism and the Ethics of Care (EoC) due to the involvement of women in this aspect of care. The EoC is viewed as a normative ethical theory.
A more realistic challenge is posed by normative ethics, which aims to achieve moral principles that govern right and wrong behavior. This includes conveying the good habits we should learn, the duties we should obey, or the effects on others of our actions. The moral imperative of the EoC goes beyond our ethical obligations and urges us to act even when it might be awkward to do so and to act responsibly implies more than the "do no harm" passive principle. Doing the right thing means acting to improve the quality of life for those excluded and/or oppressed who have been made helpless or otherwise or those who lack the capacity to make things better.
The philosophy known as the 'ethics of care' suggests that the basic elements of relationships and dependencies in human life have moral meaning. Care ethics normatively seeks to preserve relationships by interpreting and enhancing the well-being of healthcare professionals and care recipients in interpersonal relationship networks. Most often described as a practice or ethic rather than a philosophy as such, "care" includes preserving the world for ourselves and others and satisfy the expectations of everyone. Sander-Staudt's (2016) view is that it draws on the desire to look after others who are reliant and helpless, and it is motivated by both the experiences of being taken care of as well as the outward manifestations of oneself.
EOC varies from the three main philosophies of Western ethics, namely: utilitarianism, deontology, and ethics of virtue. While deontology and utilitarianism require neutrality, EoC focuses on the value of family and community relationships and how individuals or communities can react to a care-needing condition or a person in need. The difference between EoC and ethics of virtue is that EoC focuses on relationships of concern rather than individual virtues. EoC is a relational ethics in this context, a system that involves many non-Western philosophical approaches, with its roots in Chinese Confucian ethics and African Ubuntu ethics. Tavernaro-Haidarian (2018) states that is important to note that Ubuntu interprets power rather than material resources such as income, equipment, muscular stamina or natural resources as derived from immaterial energy. Therefore, power is an inter-relational set of forces between individuals and is evaluated in terms of how beneficial our conduct is for society. This notion is aligned with the idea that the liberation of women goes beyond material aspects.
The main features of an EoC viewpoint are: The dynamics and difference in degrees of attachment and interconnectedness during periods among individuals and institutions are recognized and adjusted. In our decision-making, those individuals especially affected by our decisions need to be properly assessed. Rather than depending on a "blanket" or "one-size-fits-all" strategy, in order to safeguard and support the actual interests of those concerned, it is important to attend to contextual specifics and circumstances.
The Golden Rule is an example of a moral philosophy that sets out a single standard that we measure all actions against (Spooner, 1914, In Kidder, 2003). A collection of fundamental values, or a set of positive character qualities, are the subject of other normative theories. In normative ethics, the main premise is that there is only one ultimate moral behavior criterion, whether it is a single law or a set of principles. Three sub-strategies form part of the Ethics of Care and those are: theories of virtue; theories of obligation, and theories of consequentialism.
Virtue ethics
The development of good character traits forms the core of this theory. One such characteristic is benevolence. "The definition of benevolence is a kind act or gift or the doing of kind things for others. An example of benevolence is a gift of money affording someone the opportunity to go to college. … A kindly, charitable act or gift; beneficence" http://www.yourdictionary.com. In particular, Plato stressed four virtues that were later considered cardinal virtues: intelligence, bravery, temperance and justice (Plato, 1997, in Cooper). Fortitude, generosity, self-respect, good temper, and honesty are other important virtues. Virtue philosophers maintain, in addition to promoting positive character behaviors, that we should avoid developing poor character traits or vices, such as cowardice, insensitivity, cruelty, and pride. Aristotle found the perfect fit between character traits, but we need support from our reasoning (Aristotle, 1984). Medieval theologians replaced Greek lists of virtues with three Christian ones, namely the theological virtues: faith, hope, and charity.
Duty or obligation ethics
We as human beings, have basic responsibilities, such as caring for our children and not committing murder. Theories of duty base morality on clear, fundamental concepts of duty. In view of the foundational essence of our duties or responsibility, these ideas are often called deontological, from the Greek word 'deon", or duty. Samuel Pufendorf, a German philosopher, categorised hundreds of responsibilities under three headings: responsibilities to God, responsibilities to oneself and responsibilities to others (Kant, 1985).
Concerning our duties towards others, Pufendorf divides these between absolute duties, which are universally binding on people, and conditional duties, which are the result of contracts between people. Examples of absolute duties are to avoid wronging others, to treat people as equals, and to promote the good of others. Conditional duties involve various types of agreements, the principal one of which is the duty is to keep one's promises. A second approach to ethics focused on obligation is the philosophy of freedom. Rights and obligations are interconnected in such a way that one person's rights reflect the responsibilities of another person. Kant started a third duty-based theory, which stresses a single obligation concept. Kant accepted, inspired by Pufendorf, that we have moral responsibilities to ourselves and others such as cultivating our talents and fulfilling our commitments to others. A fourth principle based on duty is that of W.D. Ross (1939), which illustrates prima facie duties. Ross believes that our responsibilities are "part of the universe's fundamental nature". Ross's list of duties, though, is much shorter, which he thinks represents our real moral convictions (Locke, 1963). Ross believes that our responsibilities are "part of the universe's fundamental nature". Ross's list of duties, though, is much shorter, which he thinks represents our real moral convictions. Examples of these duties are: Beneficence: the responsibility to change others' conditions, and Self-improvement: The obligation to enhance our virtue and intelligence and normal presence: The responsibility not to hurt anyone.
Consequentialist theories
Right moral actions, according to consequentialism, is determined solely by a cost-benefit analysis of the consequences of an action. When the results of that behavior are more beneficial than adverse, an action is morally correct. Consequentialist moral concepts demand that both the positive and negative consequences of an action are first considered. Second, we then calculate whether the overall positive effects outweigh the total bad effects. If the bad effects are greater, then the conduct is morally improper. These theories are often referred to as teleological theories, from the Greek word telos, or end, since the end result of the action is the sole determining factor of its morality (Sinhababu, 2018).
There emerge three subdivisions of consequentialism: Ethical Egoism: an action is morally correct if only the agent performing the action is more favorable than unfavorable to the consequences of that action. Ethical Altruism: an action is morally correct if anyone but the agent is more favorable than adverse to the effects of that action. Utilitarianism: an action is morally acceptable if the results of that action are more beneficial to all than harmful. The implications of behavior for various groups of people are the subject of all three of these theories although the three theories, like all normative theories, are rivals to each other.
Types of utilitarianism
It is interesting to mention two aspects of his theory. First, we count the ramifications of each action we conduct and thereby decide on a case-by-case basis whether an action is morally correct or incorrect (Moore, 1903). This component of the philosophy is known as act-utilitarianism. Secondly, count the satisfaction and pain arising from our actions, the only implications that matter in deciding if our action is moral are enjoyment and pain. This component of the philosophy is recognized as hedonistic utilitarianism (Bentham, 1789).
Ethical Egoism and Social Contract Theory
The theory of meta-ethical psychological egoism, is the belief that all our actions are selfishly motivated. Hobbes founded a moral theory known as the theory of social contract, which is a form of rule-ethical-egoism, on that basis. According to Hobbes, the agent is better off living in a world with moral rules than one without moral rules for solely selfish purposes. For without moral laws, we are subject to the whims of the selfish interests of other people. Our possessions, our families, and even our lives are under continuous threat (Hobbes, 1994).
The roles played by women are often mixed roles and these roles imply that it is the primary task of the woman to take care of her family and also do households tasks or homework, which implies food preparation, house cleaning, and educating and teaching children (Gilligan, 1092). Gilligan also mentions that compassion and empathy are primary concerns, and that justice-based ethics takes a back seat.
Gender-role definition plays an important role in what is expected of the woman, and because of this view there is a tendency to see the caring approach of the woman as well as the preoccupation with homework and roles played in the household as subordinate. Both men and women should be able to meet the requirement of care, although this aspect is often attributed to women whereas it falls within the category of human ability (Noddings, 1984). Both men and women have a social duty to provide for others. Values such as justice-based morality, human rights and equality are grouped together with trust, care, cooperation, and shared concerns by Noddings. She further states that connectedness, interdependence, and susceptibility are all facets of an ethical approach. Tronto's (2005) view harmonizes with both Gilligan and Noddings by emphasizing that the four ethical elements namely attention, accountability, integrity, and sensitivity are the alpha and omega of care ethics.
Moral duty is the cornerstone of care ethics. Moral obligation is viewed from a legal viewpoint in stark contrast to what is required of moral duty, in the sense that no one is compelled to assist another. The only exception is when forced action is mandated by statute. Often people behave in desperate situations to help others, because this may be a life or death situation, but the law does not provide for it, and such an action is carried out because not intervening in such a case affects the human conscience or goes against the community's good morals. In structures where such a condition occurs, it is frequently only in the most desperate of circumstances.
Albert Einstein stated: "Only a life lived for others is a life worthwile." Ten words viewed by the author as words that convey the most value in life. Words that contribute the most value to ethics of caring for others who are in need of care. Taking care of the well-being of others and reaching out to others in need, gives meaning to one's own life. Everyone should live a motto of "be your brother's keeper". Taking care of others is a moral virtue and nourishment for the soul. By caring for others, you provide the necessary nourishment to your own soul and contribute to your own happiness. Acts of caring do not in any way remove from your own dignity, but contribute to the enrichment of your own life and serve as an extension of your life experience.
4. Green HRM / PM Process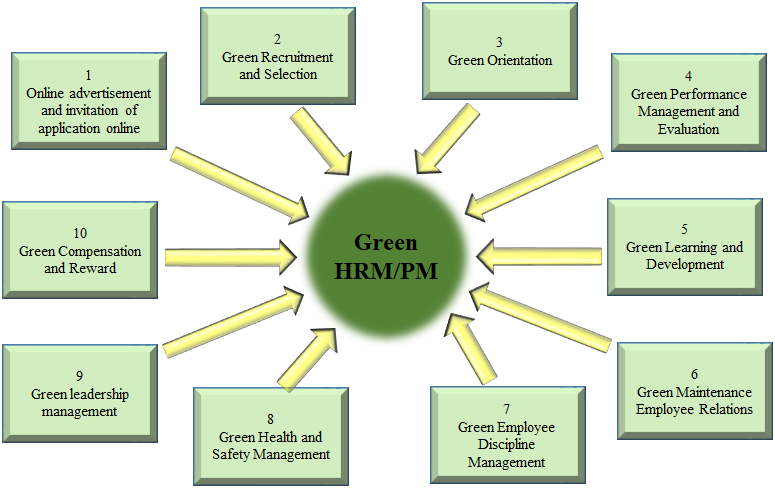 Source: Adopted from Hosain & Rahman (2016:56)
Humans have always been complicated, and it's always been a cumbersome task to have to manage people that are not susceptible to new ideas. The digital era has now brought much more complexities to the management of human capital, such as social-media openness, the persistence of software upgrades, and the remoteness of foreign teams (Andriotis, 2017). The intention or purpose of this paper is to discuss green people management through the various stages of employment and therefore describes it in figure 1 whereby a detailed illustration and description of how to manage each stage are outlined. An organisation consists of people with formally assigned roles who work together to achieve the organisation's goals. The green HRM process (Figure 1), is broken down into the various stages of employment and is discussed hereunder:
4.1. Online advertisement and invitation of online recruitment
As employment agencies compete for top talent, the use of social media in talent acquisition has become increasingly required. Indeed, in their recruiting process, over 90 percent of all recruiters now use social-networking sites. Social recruiting comes with an amazing opportunity to target certain classes of individuals for the vacancies available. On LinkedIn, for example, in some industry-specific LinkedIn groups, you will try to share work postings. In virtually every industry you can imagine, there are thousands of specialist groups on this site alone: from engineers to HR staff, to journalists, to finance experts. Also take into consideration that when recruitment is done, it should be done in a way that would not be considered irritating. If they get a job at your company, the idea is to attract potential applicants, not annoy them with promises of happiness. Although such promises may be real, potential workers may begin to see you and your business as scam artists or spammers, eventually undermining your reputation and destroying your chances of having top talent through the social network. Twitter hashtags also allow for clever methods of recruitment. You may indeed consider asking the team members to share the vacancies available within their social circles (Matson, 2018).
4.2. Green Recruitment and selection
Green hiring is a system that focuses on the value of the environment and makes it an essential factor within the company. Complementing this, the applicants are also excited and, to some degree, passionate about working for a green business that is environmentally friendly. It is easy for businesses to hire candidates with a green mindset to induce professionals who are aware of sustainable processes and are already familiar with basics such as recycling, conservation and the development of a more rational environment (Ahmad, 2015). In general, environmentally concerned companies have their own environmental policy framework. In realizing the established environmental policies, companies need an environmentally-oriented workforce. In creating such a workforce, companies have two options: the first is focusing on green recruitment. The second is providing required environmental-protection-related awareness, education, training and development to the existing workforce. The first option is more proactive and cost-effective than the second option. Hence, seeking out best green recruitment practices is important to organisations (Arulrajah, Opatha & Nawaratne, 2015). Online interviews through using Skype or Zoom, which is commonly used for meetings by organisations are essential. This also reduces travel costs and therefore contributes towards the reduction of gas from the car exhaust. According to National Geographic staff (2020), even though cars can convey a sense of freedom and movement, not to mention style and status, the exhaust fumes they emit also can have a significant impact on the planet. Here are a few key areas to consider. Even before they are burned, petroleum products raise environmental red flags. It is an energy-intensive method to remove them from the earth that can destroy local habitats.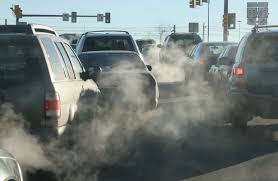 Image from (https://www.tiredearth.com)
There are several fun and creative ways to conduct interviews. Job interviews can be overwhelming for everyone concerned. The candidate might be nervous because he wants the job or because he has long been hunting for work. The interviewer may be on edge because he doesn't want to make a recruiting error. The following ways can be utilized to do an interview (Weller, 2019):
A. Leave the workplace
One can get out of the setup of the place of work. Consider conducting a public-space interview, such as at a coffee house or restaurant. Going out of the workplace can help you both relax and may give you a more accurate image of the personality of the employee. It gives the employee a sense of freedom. One can also increase the number of interviewees as well as the number of interviewers. Interviews are thus held with two or more interviewees together.
B. Switch it on interactive – 'in-basket' operations
In the interview, get the employee to do something realistic. If you are conducting an interview for a lecturer, require a lesson presented by the interviewee. This gives you time to observe the contact and skills used with the students. A dispute scenario may be generated or a real-life situation generated artificially, for instance, please hold a baby for a moment or write a letter or ask how an interviewee should interview or respond to a challenge?
C. Pose controversial questions
Ask questions from future workers that allow them to think. Such concerns are not the typical "describe a situation where you have taken on a leadership position" problems. There's no wrong or right answer to a challenging question. An example of this might be to design your own logo, and then to clarify what the indication for each part of the logo is. Riddles may also be used to make up for an interesting interview. Why are manholes round? How would you design a spice rack for a blind person? "You've been given an elephant. You can't give it away or sell it. What would you do with the elephant?" (Forsey, 2019).
D. Considerations and threats
Be careful not to go overboard in making fun of an interview. There's a very fine line between creative to unprofessional. Also, be careful not to ask the workers interesting, too personal questions.
E. Tour the workplace
The interviewers take each of the interviewees on a guided tour of the place of work, the different parts and the surroundings. Facebook's Mark Zuckerberg takes a walk with his interviewees because he has learned that when working, one cannot think cognitively (Yarow, 2011).
4.3. Green orientation
Improving employee participation in greening your company can give rise to a more motivated, productive and vibrant workforce that recognizes the importance and significance of decent business ethics and corporate obligation. The outdoors have a natural human appeal. The atmosphere, sun, water, and other elements of the outdoors make us feel renewed, relaxed, and at one with the universe. How do we get these outdoor elements inside our workplace? The easiest way to do so is to introduce plants into our work environment. Simple ways to bring in the outdoors may be the use of natural fibers, the application of outside colours inside the offices, natural flooring and decoration with elements found in nature in offices makes the offices accommodating and comfortable (Gibson, 2020). The concept of bringing the outside indoors is referred to as the creation of a biophilic office design. Several studies have shown that efficiency, innovation and morale have been improved by incorporating elements of nature into the workplace. Nevertheless, a recent Human Space study highlighted the fact that workplaces that have incorporated elements of nature have experienced a decrease in mental exhaustion rates among staff members and a rise in workplace well-being rates (https://www.phsgreenleaf.co.uk/biophilia-in-office-design-4-ways-to-bring-nature-into-the-office/).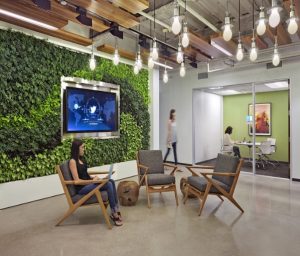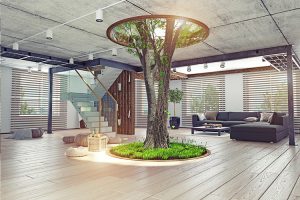 https://www.biophilicdesign.net/ https://www.biophilicdesign.net/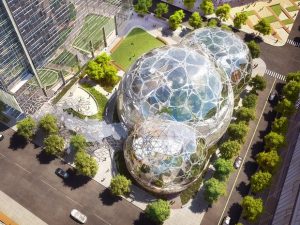 https://www.biophilicdesign.net/
4.4. Green performance management and evaluation
Arulrajah, Opatha and Nawaratne (2016) cited that, in recent years, a number of scholars have contributed to the understanding of green human resource management (Renwick, Redman, & Maguire, 2013; Jabbour, 2011; Jackson, Renwick, Jabbour, & Camen, 2011; Opatha, 2013, Opatha and Arulrajah, 2014 and 2015; Arulrajah, Opatha and Nawaratne, 2015). The authors propose that today, a number of experts require organizations to integrate environmental-management elements into the workplace analysis and definition of employees due to the fact that there has been a great need to respond to the negative environmental impacts of organizations from the individual work levels of organizations (Zoogah, 2011; Rangarajan and Rahm, 2011; Jabbour, 2011; Jabbour, Santos & Nagano, 2010; Wehrmeyer, 1996).
Arulrajah et al., (2016) in their study, attempted to reveal that the concept of employee green performance of job has certain key dimensions and elements. Three key dimensions were identified in Figure 5, and they include (1) efficient use of input resources by employees when they perform their day to day job tasks, duties and responsibilities, (2) innovative environmental initiatives of employees and (3) employee contribution to the Corporate Environment Management (CEM) initiatives. The authors suggest that these three key dimensions could be utilized to develop an instrument to measure the concept of employee green performance of the job performed by employees.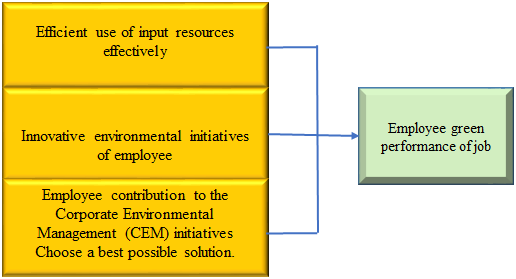 Source: Arulrajah et al., 2016
Employee green performance is beneficial for both the employee and the organisation and is therefore recommended for implementation in any working environment.
4.5. Green learning/training and development
Ahmad (2015) notes that organizations should educate their staff on sustainable business practices and how to be passionate about green initiatives. In addition, workers with environmental training and education can also be adept at educating clients about the benefits of being more earth-friendly and purchasing green goods.
Note can be taken of the fact that training takes up a lot of time and can be costly; online training is cheaper. No use of paper which is harmful to the environment and certificates are generated digitally and can immediately be saved/stored electronically for any future applications and/or use.
4.6.
Green maintenance and employee relations
According to Ahmad (2015) the element of HRM that is concerned with maintaining a friendly employer-employee relationship is employee relationships. The partnership promotes the employees' motivation and morale as well as boosts efficiency. Employee partnerships ultimately include employee engagement and practices of empowerment. It also helps to avoid and fix organizational issues that can impact the workplace. In reality, positive employee relations are an intangible and lasting asset for every company and a source of competitive advantage.
4.7. Green-employee discipline management
Wehrmeyer (1996) stated explicitly that green discipline management is a prerequisite in corporate environmental management. In ensuring green employee behaviour in the workplace, organizations may need green discipline management practices to achieve the environmental management objectives and strategies of the organization. In this context, some companies have realized "discipline management" as a tool to self-regulate employees in environmental protection activities of the organization. These firms have developed a clear set of rules and regulations which imposes/regulates employees to be concerned with environmental protection in line with environmental policy of the organizations. In such companies, if an employee violates environmental rules and regulations, disciplinary actions (warning, fining, suspension, etc.) are taken against him/her (Hosain et al., 2016).
4.8. Green health and safety management
Green health and safety management really goes beyond the boundaries of the conventional HRM role of health and safety management. It not only includes the traditional health and safety management but also some more aspects regarding the environmental management of an organization. That is why nowadays many organizations are redesigning the post of "health and safety manager" as "health, safety and environmental manager". This includes a broader job scope when compared with the traditional post of health and safety manager in an organization. For example, it includes biodiversity protection and community-support initiatives, etc. that include the local environment and people.
Alexandria (2009) and Hosain et al., (2016) view the ensuring of a green workplace for everyone as the main role of a green health and safety management and add that green workplaces are characterized as environmentally responsive, resource-efficient and socially responsible workplaces.
4.9. Green leadership management
Hosain et al. (2016) stressed that the company can assign a top-level manager to initiate and organize green sustainability. He/she can include green issues in business and corporate plans. According to Mayrik (2020), from the World Economic Forum, the planet's sustainability is intertwined with the health and well-being of people and corporations around the world. Leaders who are planning to discuss both solid strategies and decision-making will set their companies and their workers up for potential success; there is some good news, however. Even more than before, leaders are dedicating themselves beyond their own central courtyard to the health and well-being of the universe. Business and investor support for environmental sustainability measures has continued to increase over the past several years. Hosain et al. (2016) further continue by stating that evidence from a PWC report in 2018 found that around 50% of businesses had built their impact strategies around several of the Sustainable Development Goals of the UN. A corporate sustainability report is produced by more than 90 percent of the 250 largest companies in the US. The planet's health is now of the essence and it should be placed in the forefront of output from businesses. It is therefore more important than ever that businesses can demonstrate their commitment to goals that are larger than their own business scope, but critical for the planet's long-term health, and be evident in the manner in which businesses conduct their business.
4.10. Green compensation and reward
Ahmad (2015) states that rewards and compensation can be considered in the context of Green HRM, as potential instruments to support environmental initiatives in organizations. Modern organizations are developing incentive programs in accordance with a strategic reward and management approach to facilitate eco-friendly initiatives by their employees. He suggests spoiling employees with handy green gifts like a hammock, custom bags or company clothing made from recycled or eco-friendly material, gift vouchers to eco-friendly restaurants or clothing shops, eco-friendly corporate gifts or even a bamboo-made keyboard and mouse (Somers, 2013).
5. Impact on Employee Morale
LaMarco (2019) argues that going green does not only foster positive feelings from customers. Modern organizations are developing incentive programs in accordance with a strategic reward and management approach to facilitate eco-friendly initiatives by their employees. Encouragement and rewards should assist to uplift the morale of the employee. The employee should feel valuable to the company. An example used by LaMarco (2016) is an action introduced by the Bank of America. This bank introduced a new incentive program a few years ago that offered employees a discount for installing solar panels in their homes, and also provided up to $3,000 in reimbursement incentives when customers purchased a proven environmentally-friendly vehicle. By displaying a dedication to a safe global climate, businesses such as Bank of America demonstrate that they also care about the world of their workers, which is good for employees.
Taking note of the above example, the NWU will be using live flowers to boost creativity and also beautify the surroundings by using recyclable milk containers to plant flowers in. The so called "flower pot" will then be decorated to blend in with the environment and give it a taste of African culture.
Tufvesson (2016) did an eight-month study in Texas and found that workplace trees, shrubs, and plants help enhance the production of ideas, innovative efficiency and problem solving. He also found that although women came up with more innovative solutions to problems, men created 15 percent more ideas. This leds to the conclusion that plants enhance innovative thoughts.
The NWU will be proposing the "green pot-plant initiative" as at the NWU it is our wish to follow suit and use the opportunity to create an environment-friendly ambience around the campus. According to the author, the humble and creative pot plant reduces stress while boosting creativity and indoor air quality. The use of the holder to host the plant is also a form of recycling, in the sense that an old milk container is used and decorated. The author asked the question, how many hours a day do you spend indoors? Of which she gave an answer to this question, that some urban dwellers can spend as much as 22 hours inside. So contrary to popular opinion, indoor air is more polluted than its outdoor counterpart, posing significant risks to our health. Oxygen is also released by the plants in the office and surroundings. It also creates a "cooler" temperature where conditions are sometimes very harsh and temperatures very high. "The air inside is always more stale," stated Burchett (2005), a researcher in the use of indoor plants at the University of Technology in Sydney. Burchett also stated: ""We use a lot of fossil-fuel-derived materials that lead to emissions, such as furniture, paint and computers. As we use these things, there is still more carbon dioxide than we all breathe together." The study of Burchett (2005) found that new research shows that indoor plants, along with a variety of modern malaises such as stress, disease and even brief attention span, reduce air pollution. The finest part? This win-win situation can be accomplished by only three plants in the office or lounge area.
The following Table 1, are examples of the creative pot plants that the NWU is intends placing around the campus and this initiative will be monitored and sustained by permanent employees within the NWU Mahikeng campus. The NWU goes even further in that corporate presents given to employees contais seeds of plants, for instance, a ruler with a seed which may be planted if the ruler breaks, recycled paper with a seed of the tree of the year which then gets planted by employees in their own garden on tree-planting day. Recycling of water bottles and empty coffee bottles entails being refilled with grains and soya mince to provide a nutritious meal to those in need.
Photo set 5: Creative Pot plant designs
Illustrations from http//www.comofazeremcasa.net – http//www.recycled bottle planter in 2020/plastic bottle planter – http//www.pinterest.com – http//www.recycled milk jug planter
6. The therapeutic effects and importance of the sound of water
The sound of water is crucial and therefore, this chapter suggests that the installation of water features in the office or near the work space is of health benefit to employees. As previously mentioned, a satisfied and healthy workforce as well as a prosperous organization combine in the work space to achieve overall success. Looking particularly at the use of water and sound in and around the building, Abdalrahman and Galburn (2017) stressed that research had shown that noise-masking systems can successfully mitigate the detrimental effects of noise in open-plan offices. The effectiveness of water sounds in masking noise, especially irrelevant speech, has been extensively examined in previous laboratory experiments.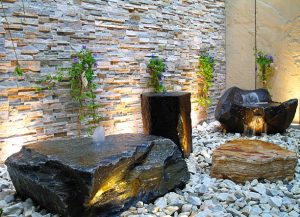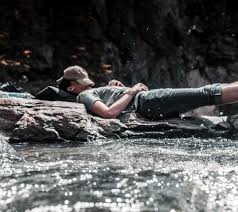 https://unsplash.com/photos/_VnJ1YFTZvQ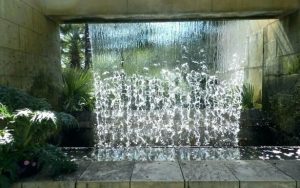 https://www.google.com/url?sa=i&url=https%3A%2F%2Fwww.pinterest.com%2Fpin%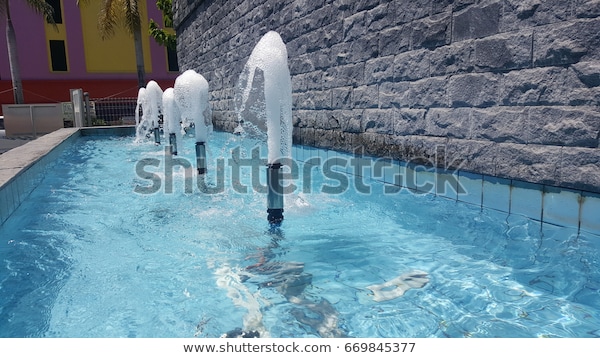 https://www.shutterstock.com–669845377
The pictures 2-5 above provide examples as well as illustrate the effects that the sound of water has on the human mind. Livni (2018) implies that people, whether they are close to the ocean, a lake, river, swimming pool or even listening to the calming sound of a fountain, will enjoy the benefits of water. This paper supports the possibility that it should be done when there is a need to add a water feature (indoor or outdoor) in the work place or near the work space. The author also indicates that most societies are built close to bodies of water, not due to the practicality of the decision or for the use of the water source per se, but because we are instinctively attracted to the sound of running water as humans, and even if you are not in an environment where water is readily available, you can still enjoy its emotional and relaxing benefits. Flowing water normally attracts birds, wildlife and insects and adds to the feeling of being relaxed. The feeling of health and calm that comes over them when they are in or near rivers and streams has been alluded to by many scribes in the writing of papers, writers in their poems and essays, painters in their pictures and sailors or fishermen.
Researchers, town planners, the tourism section, parks board, guest houses and municipalities want to make meaningful use of this information, by taking advantage of the idea to promote the advantages of running water, indicating the benefits of running water on the relaxing of the individual and the promotion of family recreation time as it allows for fishing and beautifying of the environment, speed boat racing on water and water sports, thereby turning water into a tool for promoting health in the city.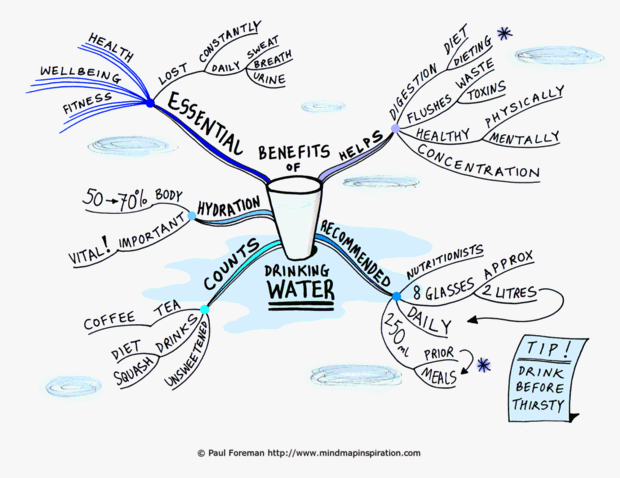 http://www.mindmapinspiration.com/benefits-of-drinking-water/
Water has amazing benefits for the human min, and there is no doubt about that, a fact that has been proven for centuries. As depicted in picture 5, the Universal Rock Blog 2019 stated that the sound of running water had a soothing impact on our minds and bodies, which seems to be why people favour water characteristics that are important to their home environment. Sound created by running water contributes to creating a deep sleep that implies an abundance of rest and relaxation. Flowing water can provide spiritual and emotional well-being with various health benefits. Flowing water is calming for listening and creates a higher level of emotional intelligence and water fixtures can greatly help relieve stress.
Creating or installing a water fixture in the workplace or immediate environment of the work place or at the individual's residence will help individuals and employees in their day-to-day life achieve greater mental health, feelings of peace and a zest for life. This will be akin to bringing the individual or employees closer to nature, closer to their very existence.
A few benefits of flowing or cascading water need to be mentioned:
Better sleeping patterns – deeper sleeping patterns

Dampens noises

Relief from anxiety

Releases tensed up muscles

Helps with problem solving – relaxes the mind

Increases calming sensations

Manages relationships better

Stress relief

Increased

concentration
7. The therapeutic effects and importance of the sound of music
Listening to music may be a fast way to get yourself into a happier mood, but it is becoming increasingly apparent that the benefits of music are far more than just a quick boost to your attitude. Studies have shown that music influences the body and mind deeply (Mofredj, Alaya, Tassaioust, Bahloul, & Mrabet, 2016). There is actually a growing healthcare area known as music therapy which uses music to heal.
Research has shown that music with a strong rhythm can activate brainwaves to resonate in sync with the sound, with faster beats providing stronger focus and more alert thought and a slower tempo encouraging a relaxed, meditative state (Wang, 2014). Performance and performance therapy can help reduce or avoid the adverse effects of chronic stress, encouraging well-being as well as relaxation (De Witte, Spruit, Van Hooren, Moonen & Stams, 2019). It can help avoid the stress response from wreaking havoc on the body, and can help to sustain higher levels of creativity and motivation, providing several other benefits.
Listening to music can reduce stress, increase focus, improve mood and increase productivity. To play soft Baroque (instrumental music) through the work place will cause the employees to relax and concentrate better (Cook, 2018).
8. Play area for employees with children
The creation of a play area for working parents which contributes towards peace of mind may lead towards highly motivated staff. There are however in the South African Labor context laws that govern rules for bringing children to work. One of the rules according to Claassen( 2020), is the Basic Conditions of Employment Act, 1997 (BCEA) of which Section 27 states: "is that only an employee who has worked for more than four months with the same employer and who works for more than four days a week with the same employer is entitled to leave for family liability". This leave class substitutes for what was known in the past as paternity leave, special leave, compassionate leave, or any other term by which it was known. Family Responsibility Leave now covers specific requirements – anything not mentioned in paragraph 27(2) of the BCEA (1997) does not qualify for family responsibility leave. The provisions cover instances where:
the employee's child is born;

the employee's child or adopted child is sick;

the death of the employee's spouse or life partner; the death of the employee's parent, adopted parent, grandchild, grandparent, or brother or sister.
Rules about children in the workplace vary with the workplace environment and the attitudes of management. Gallup (2020), suggests that prior to the first time an employee asks, "Can I bring my son to work with me because I can't find a sitter?" forward-thinking businesses should consider an official policy on child visitors and base the policy on carefully considered factors and discuss certain factors in the policy. Employees should enjoy knowing the "why" behind the rules.
Whitman (2018) states that, we all remember our childhood, and the fact that playgrounds were probably our favourite thing on the entire world, therefore our children feels the same way about them. So if you don't expose them to that kind of fun into their world, you're not going to know that they are missing, because they have an iPad to substitute it. You'll see an extraordinary change in their passion for authentic play if they encounter it once. Shops cater to a large extend for children that are bored, by introducing them to mostly the digital world but also to cellphones, apps, special developed areas in the large shopping centers. According to Whitman (2018) there are seven reasons that sound compelling for organizations to consider playgrounds and those are the following:
8.1
Children learn through play
From the viewpoint of an infant, learning and playing are not distinct activities. In 1995, Swedish researchers carried out an observational analysis to prove exactly that. They proved that the children who engaged in experimental learning combined with play were better at passing first-grade exams than the other children in the same classes. These gaps were not so evident in the higher grades, but the kids who learned by play were still better at mathematics and writing.
8.1 The parent buys a new gadget and you really don't know how to handle it, but the child can quickly access the App Store, download a few games, and start playing them immediately. The playground offers the perfect off-screen entertainment. Children today are smart about technology; there's no doubt about that. Apps cannot teach them all, however, as this kind of technology (metal brains) does not provide real-world experience. This adolescent will be in high school before you know it, ordering an essay from some other available website specialising in spoiling the learner because they will have no idea how to tackle the assignment which means the opportunity to teach the child something gets lost due to non-involvement of the parent with the school work the child is doing. Children should refrain from using technology too often in their school work. It makes assignments easy, but deprives the child of finding the solution to a problem on his own. To practise their life skills children must also be exposed to real-world interactions.
8.2 Physical advantages are provided by playgrounds due to the fun it holds. Outside activities are vital for the healthy physical growth of children. It strengthens their abilities for stability and balance, as well as their overall motor skills. They learn how their movement is regulated and how to trust their intuition and take calculated risks. The function of the heart and lungs is also enhanced by physical activity and it helps children develop stronger muscles. It eventually prevents obesity and diabetes, strengthens the heart muscles, helps with digestion and also encourages healthy competition between friends. Movement causes the child to do Mathematics with ease as he learns to count and evaluate situations and seek solutions to problems.
8.3 The physical benefits of play at a playground are apparent as it remains a physical activity; however the emotional advantages of playgrounds are also evident. There are small improvements that one does not often notice in the health of one's child. Free play encourages one's child to create self-confidence. Children tend to have a struggle to master a physical challenge and often needs to be encouraged to overcome their fear of accomplishing the physical challenge. Children tend to copy friends and if a situation has been handled successfully they tend to repeat it the next time they are exposed to such a situation. They build on previous knowledge to handle a situation. It will take some time to overcome the fear to act daringly and make an attempt to overcome an obstacle. They know that they can do it if they try and if they are courageous enough. They release stressful feelings through this experience and learn how to cope with them.
8.4 Social advantages of playgrounds are easy to determine. Children at a playground socialize with their friends, they make new friends who assist in the child's development. Playgrounds also teach the child to have courage and take risks. It develops social skills and sometimes asks for teamwork to get something done. Here we are thinking of small children that need somebody to push them on a swing. It also asks that children learn to trust friends for instance when a friend tells them to get on a play frame not known to them. The skills acquired from enjoyment experienced and physical development at a recreation ground is of more value than the wasting of hours with a game on an iPad or television games.
8.5 Unsociable play is sometimes encouraged, even though recreational activities are often interactive; these often give isolated opportunities for play. These kinds of activities help children as they enable them the opportunity to reflect, providing innovation and development of their imagination. They even copy what the friends are doing and imagine they develop the kind of play they are showing. They are the hero in their own eyes. Forceful interaction does much harm and makes the child lose self-confidence; the same with forced communication. When children are forced into play they do it because the parents force them into playing with others. Just allow them to enjoy themselves on the playground. They are sometimes their own best friend. When they get the opportunity to use their imagination, they can find new ways to overcome obstacles. Children learn when they discover something themselves.
8.6 Recreational activities at school makes learning easy. Scholars have recognized that school recreational activities have a significant bearing on the schooling and development of a child. The attendance record at primary schools seems to have increased due to the availability of a playground in the school. Children tend to forget their disabilities when they are involved with play. The bond between parent and child is also strengthened when the child and the parent use the playground together. Parents often see flaws in pupils when they compare their child with other children of their child's age and then often seek help for the problems sooner.
Photo 10 provides some examples of playground toys, or climbing frames that can be used in an unused space in the yard or near the organization. It is essential that the play area is confined and safe for the children to play freely.
Creative playground ideas for the organisation

Fun outdoor kids play

Tyre recycling ideas

500 playground ideas

900 toddler brainstorming ideas

Tire recycling ideas

Perfect child friendly garden

Ideas for using tires in our outdoor play garden

Tire garden, reuse old tires
Photo set 10: Creative playground ideas
9. Conclusion
Going green in the work place does not only involve recycling papers or simply putting computers to sleep and switching off the printer before the employee exits the work place. It involves the overall working environment and its day to day functions from planning to implementation and the entire human resource or people management cycle. Creating a green atmosphere increases the overall health condition of the office, which includes reducing costs and may contribute towards an improved state of mind and motivation, which ultimately can lead to increased productivity for the organisation. Creating a tranquil and calm working space may be attained by installing features in the work area such as indoor or outdoor water features and a play area.
To cultivate satisfaction and a properly developed staff, employees should be treated with dignity, and individuals should be taken into account, work should be made important, and productive work should be acknowledged. Employees' talents should be nurtured, and their skills should be able to fit in with the necessary competency sets to complete projects. Workers' ability is developed in a conducive climate, where the contribution of everybody is acknowledged. Employees that are satisfied need less monitoring and prioritize the company. Colleagues, the physical work environment, and work relationships are all facets of an employee's adopted life that can make or break them.
Bibliography
Abdalrahman, Z. & Galbrun, L. 2017. Soundscape assessment of a water feature used in an open-plan office. The use of features for improving speech privacy and cognitive work performance in open-plan offices. Date accessed: 29 July 2020. Sourced from https://www.researchgate.net/publication/318233598_Soundscape_assessment_of_a_water_feature_used_in_an_open-plan_office
Alexandria, V.A. 2009. Society for Human Resource Management (SHRM), Green workplace: Survey brief. Date accessed: 18 Sept. 2020. Sourced from http: //www. shrm. Org/ Research/Survey Findings/Articles/Documents/SHRM%20Green%20 Workplace%20Survey%20 Brief. pdf.
Ahmad, S. 2015. Green Human Resources Management. Policies and Practices. Date accessed: 3 July 2020. Sourced from https://www.cogentoa.com/article/10.1080/23311975.2015.1030817
Andriotis, N. 2017. Top 7 HR challenges and how to face them. Date accessed: 21 September 2020. Sourced from https://www.efrontlearning.com/blog/2017/11/top-7-human-resource-challenges-solutions.html
Aristotle, N. 1984. Ethics, in Barnes, Jonathan, (ed). The Complete Works of Aristotle. Princeton, N.J.: Princeton University Press.
Arulrajah, A.A., Opatha, H.H.D.N.P. & Nawaratne, N.N.J. 2015. Green Human Resource Management Practices: A Review, Sri Lankan Journal of Human Resource Management, Vol. 5, No. 1, pp. 1-16. Date accessed: 15 Nov. 2020. Sourced from https://doi.org/10.4038/sljhrm.v5i1.5624.
Arulrajah, A.A., Opatha H.H.D.N.P., & Nawaratne N.N.J. 2015. Sri Lankan Journal of Human Resource Management. Vol.5, No.1, 2015. Green Human Resource Management Practices: A Review Date accessed: 21 Nov. 2020. Sourced from https://www.researchgate.net/publication/331476172_Green_Human_Resource_Management_Practices_A_Review
Arulrajah, A.A., Opatha, H.H.D.N.P & Nawaratne, N.N.J. 2016. Employee Green Performance of Job: A Systematic Attempt towards Measurement. Sri Lankan Journal of Human Resource Management. Vol.6, No.1, 2016 37. Date accessed: 5 Dec. 2020. Sourced from https://www.file:///C:/Users/16134729/Downloads/5631-20059-1-SM.pdf
Arulrajah, A.A., Opatha, H.H.D.N.P. & Nawaratne, N.N.J. 2015. Sri Lankan Journal of Human Resource Management. Vol.5, No.1, 2015 Green Human Resource Management Practices: A Review.
(7) (PDF) Green Human Resource Management Practices: A Review. Date accessed: 21 July 2020. Sourced from: https://www.researchgate.net/publication/331476172_Green_Human_Resource_Management_Practices_A_Review
Barbeau, J. 2012. November 5. Network for business sustainability. Engaging employees
in going green. Date accessed: 28 Aug. 2020. Sourced from
https://www.nbs.net/articles/engaging-employees-in-going-green.
Batho Pele Principals. 2018. Date accessed: 20 Feb. 2021. Sourced from
http://www.dpsa.gov.za/batho-pele/Principals.asp
Bentham, J. 1789. Introduction to the Principles of Morals and Legislation (1789), in The Works.
of Jeremy Bentham, edited by Bowring, J. (London: 1838-1843).
Burton, L. 2019. Green workplace initiatives that are easy to implement. Date accessed: 13 July
2020. Sourced from https://www.swipedon.com/blog/green-workplace-initiatives–
#:~:text=Introduce%20green%20challenges%20for%20employees,cup%20or%20coffee%20cup%20day.
Burchett, M.D. 2005, Improving Indoor Environmental Quality Through the Use of Indoor Potted Plants, Final Report to Horticulture Australia Ltd, Sydney.

Galán Herranz, A. 2017. Introducing the First Biodegradable Bottle Made From Sugar Cane. Date accessed: 25 July 2020. Sourced from https://www.en.reset.org › blog › introducing-first-biodegradable-b…
Cilligan, C. 1982. Carol Gilligan publishes "In a Different Voice". Jewish Women Archive: Jewish Women in America: An Historical Encyclopedia, pp. 512-514; Date accessed: 12 July 2020. Sourced from http://its.law.nyu.edu/faculty/profiles/CVFiles/Carol%20Gilligan%20CV%20Spring06.pdf; http://www.amazon.com/gp/product/0674445430/104-7894730-1983942.
Claassen, A. 2020. The South African Labor Guide. Date accessed: 03 July 2020. Sourced from https://www.labourguide.co.za/conditions-of-employment/343-family-responsibility-leave
Cook, L. 2018. 4 Benefits of listening to music in the workplace. Date accessed 5 July 2020. From https://. umgagency.com › 4-benefits-listening-music-workplace….
De Witte, M., Spruit, .A, Van Hooren, S., Moonen, X. & Stams GJ. 2019. Effects of music interventions on stress-related outcomes: a systematic review and two meta-analyses. Health Psychol Rev. 2019:1-31.
Ethics Explainer: What is Consequentialism? – The Ethics Date accessed: 11 Feb. 2021. Sourced from http://www.Centreethics.org.au.ethics-explainer-consequentialism
Forsey, C. 2019. 15 Fun, Weird, & Unexpected Interview Questions (With Sample Answers). Date accessed: 25 July 2020. Sourced from https:// blog.hubspot.com › marketing › funny-weird-interview…
Fournier, C. & Sanchis, Y. October, 18, 2018. Green Human Resource Management. Meaning and definition. Date accessed: 03 Dec.2020. Sourced from https://youmatter.world/en/definition/green-human-resources-management-meaning-definition/
Gallup, B, 2020, Rules about bringing small children to work. Date accessed: 29 July 2020. Sourced from https://work.chron.com/rules-bringing-small-children-work-15648.html
Gibson, R. 2020. 10 Simple Ways to Bring the Outdoors Inside. Date accessed: 25 July 2020. Sourced from https://www.freshome.inspiration.
Hobbes, T.L. & Curley, E. 1994. Chicago, IL: Hackett Publishing Company.
Hosain, S. & Rahman, S, June, 2016. Green Human Resource Management. A theoretical overview. Date accessed: 03 July 2020. Sourced from https://www.researchgate.net/publication/304169968_Green_Human_Resource_Management_A_Theoretical_Overview
Jabbour, C.J.C. 2011. How green are HRM practices, organizational culture, learning and teamwork? A Brazilian study, Industrial and Commercial Training, Vol. 43, No. 2, pp. 98 – 105.
Jabbour, C.J.C. 2011, How green are HRM practices, organizational culture, learning and teamwork? A Brazilian study, Industrial and Commercial Training, Vol. 43, No. 2, pp. 98 – 105.
Jabbour, C.J.C., Santos, F.C.A. & Nagano, M.S. 2010. Contribution of HRM throughout the stages of environmental management: methodological triangulation applied to companies in Brazil. The International Journal of Human Resource Management, Vol. 21, No. 7, pp. 1049-1089.
Jackson, S.E., Renwick, D.W.S., Jabbour, C.J.C.& Camen, M.M. 2011. State-of-the-Art and Future Directions for Green Human Resource Management: Introduction to the Special Issue, German Journal of Research in Human Resource Management, Vol. 25, No. 2, 99- 116.
Jolly, J. May, 25, 2015. Green HRM – New trend in HR. Date accessed: 03 July 2020. Sourced from https://www.vskills.in/certification/blog/green-hrm-new-trend-in-hr/
Kant, I. 1985. Grounding for the Metaphysics of Morals. Indianapolis: Hackett Publishing Company, 1985.
LaMarco, N. February 6, 2019. What are benefits of going green for a business? Date accessed 13 Dec.2020. Sourced from https://smallbusiness.chron.com/benefits-going-green-business-3225.html
Livni, E. 2018, August 5. Blue mind science proves the water health benefits of being by water. Date accessed 29 July 2020. Source from https://qz.com/1347904/blue-mind-science-proves-the-health-benefits-of-being-by-water/
Locke, J. 1963. Two Treatises, ed., Peter Laslett. Cambridge: Cambridge University Press.
Mamun, M.A.A. 2019. Human Resource Management Research 2019, 9(1): 14-21 DOI: 10.5923/j.hrmr.20190901.03 An Analysis of Employee Awareness on Green Human Resource Management Practices: Evidence from Bangladesh.
Matson, M. 2018. 8 Advantages of using social media in your recruitment advertising. Date accessed 21 Sept. 2020. Sourced from https://www.zippia.com/employer/8-advantages-using-social-media-recruitment-advertising-strategy/
Moore, G.E. 1903. Principia Ethica, Cambridge: Cambridge University Press,
Myrick N. June 15, 2020. Environmental Leadership will be more in demand than ever after COVID-19. Date accessed 22 Dec. 2020. Sourced from https://www.weforum.org/agenda/2020/06/environmental-leadership-will-be-more-in-demand-than-ever-after-covid-19/
Mofredj, A., Alaya, S., Tassaioust, K., Bahloul, H. & Mrabet, A. 2016. Music therapy, a review of the potential therapeutic benefits for the critically ill. Journal of Critical Care. 2016:35:195-199.
National Geographic Staff. 2020. The environmental impact of cars explained. Date accessed on 20 Dec 2020. Sourced from https://www.nationalgeographic.com/environment/green-guide/buying-guides/car/environmental-impact/
Noddings, N. 1984. Caring: A Feminine Approach to Ethics and Moral Education. Berkeley: University of California Press.
Opatha, H.H.D.N.P. 2013. Green Human Resource Management: A Simplified Introduction, Proceedings of the HR Dialogue 2013, Department of HRM, University of Sri Jayewardenepura, pp. 21-41.
Opatha, H.H.D.N.P. 2015. Organizational Behaviour, The Human Side of Work, Author Publication, Nugegoda, Colombo: Sri Lanka.
Opatha, H.H.D.N.P. & Arulrajah, A.A. 2014. Green Human Resource Management: Simplified General Reflections, International Business Research, Canadian Center of Science and Education, Vol. 7, No. 8, pp. 101-112.
Plato, R. 1997. In Cooper J.M. Plato: Complete Works. Republic, 6:510-511. Indianapolis: Hackett Publishing Company.
Rangarajan, N. & Rahm, D. 2011. Greening Human Resources: A survey of City- Level Initiatives, Review of Public Personnel Administration, Vol. 31, No. 3, pp. 227-247.
Renwick, D.W.S., Redman, T. & Maguire, S. 2013. Green Human Resource Management: A Review and Research Agenda, International Journal of Management Review, Vol. 15, No. 1, pp. 1-14.
Ross, W.D. 1939. Foundations of ethics. Oxford: the Clarendon Press. Consulted at https://archive.org/details/foundationsofeth029077mbp/mode/2up
Sinhababu, N. 2018. "Scalar Consequentialism the Right Way", Philosophical Studies, 175: 3131–3144.
Somers, D. 2013. 5 Green Ways to Reward Your Employees with Eco-friendly Gifts. Date assessed: 26 Dec. 2020. Sourced from https://www.greenerideal.com › Guides › Gifts.
Spooner, W.A. 2014. "The Golden Rule," in James Hastings, ed. Encyclopedia of Religion and Ethics, Vol. 6 (New York: Charles Scribner's Sons, 1914) pp. 310–12, quoted in Rushworth M. Kidder, How Good People Make Tough Choices: Resolving the Dilemmas of Ethical Living, Harper, New York, 2003. ISBN 0-688-17590-2. p. 159
Tufvesson, A. June 17. 2016. Body and Soul. Date accessed: 15 Dec. 2020. Sourced from https://www.bodyandsoul.com.au/health/health-news/the-health-benefits-of-pot-plants/news-story/5822b63abcffa0d2ce0397cd30d92e07
Universal Rock Blog. 2019. The therapeutic benefits of running water. Date accessed: 22 Jan 2021. Sourced from https://www.universalrocks.com/blog/the-therapeutic-benefits-of-running-water
UNODC: 2001. The Doha declaration: Promoting a culture of lawfulness. E4J University Module Series: Integrity and Ethics. 60 Years Crime Congress – Qatar.
Wang W.C. 2014. A study of the type and characteristics of relaxing music for college students. Date accessed: 28 Jan. 2021. Sourced from http://www.Proc.Mtgs-Acoust.2014:21:035001
4 Ways to bring Nature into the Workplace. Date accessed: 18 Jan. 2021. Sourced from https://www.phsgreenleaf.co.uk/biophilia-in-office-design-4-ways-to-bring-nature-into-the-office/
Wehrmeyer, W. 1996. Greening People: Human Resource and Environmental Management, New York: Greenleaf.
Weller, E. 2019. Fun & Creative Ways to Conduct a Job Interview. Date accessed: 17 Feb. 2021. Sourced from https://www.Work…work.chron.com…
Whitman, M. 2018. Kids needs playgrounds: 7 reasons. Date accessed: 12 Feb. 2021. Sourced from https://www.playgroundprofessionals.com/playground/kids-need-playgrounds-7-key-reasons
Yarow, J. 2011. When Mark Zuckerberg really wants to hire you, he'll ask you to take a walk with him in the woods. Date accessed: 11 Feb. 2021. Sourced from https://www. Mark Zuckerberg – Business Insiderwww.businessinsider.com
Zoogah, D.B. 2011. The Dynamics of Green HRM Behaviors: A Cognitive Social Information Processing Approach. German Journal of Research in Human Resource Management, Vol. 25, No. 2, pp. 117-139.